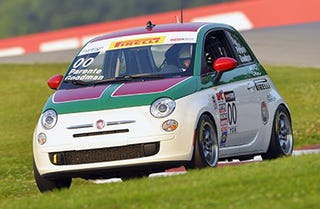 Now that every Internet writer seems to be racing, got to give you something different - Especially since I didn't win! So, let's talk about WHAT you think about WHEN you race.
Because your Head determines HOW you race. Thinking is as key as any other part of the racing equation - Car, Team, Desire, Skills, Balls [Steel Ovaries], Whatever.
How you think, what you think about, will get you closer to the racing results you seek. And we'll discuss how we used the other bodyparts, too - Hands, Feet, Eyes, Ass, Balls.
THE OPENING LAPS - THINK! DON'T THINK! NO, I BETTER THINK THIS THROUGH!
I'm sitting on my 1st Pre-Grid in almost 2 decades. In 'my' Fiat 500 near the back of the 15 car Pirelli World Challenge TCB class grid. Being the fastest of the 3 guys that tested the Fiat this weekend is no consolation for the still-too-big lap time gap from me to P1 in TCB. Ugh. And race-start is just minutes away.
"Think, Leo. Don't think, just race. No, THINK!"
Remember the techniques to get speed out of this Fiat. Smooth hands and feet - This is a 'momentum' car. Keep tire scrub down and the revs up. Plan your move into the Keyhole turn that launches onto the back straight……. The part of the track where the Fiat is weakest.
And then……. I see rain drops on the windshield. Crap! I've never been comfortable in the rain. I have what? The experience of only 1 wet race and maybe 3 sessions in my entire career?
"But, a wet track will negate my horsepower shortfall and play to the Fiat's handling strengths."
Plus, we got the brakes sorted out, so advantage #2? But think, again. It's not raining enough to go to rain tires. So, wet track on race slicks. OK, just get ready to feel for grip and react.
And then I think a bit more. Usually I manage aggression, let the race unfold, and set up for a strong finish. Maybe this time it's time to go a bit 'Alonso' right from the start with THIS Italian racecar. In these conditions.
"Trust yourself, Leo. Even after 17 yrs away from this sh*t, the skill is still inside you."
Now, we're rolling out for the pace laps…..
THE BACKSTORY - WHAT WERE THEY THINKING?
Thanks to the generosity [and possibly questionable logic] of the Pirelli World Challenge Series, Pirelli Tire, Fiat USA, and SRT Motorsports, I was given this 1-shot race date at the Mid-Ohio round of the PWC championships in the TCB class Fiat 500 that you see in the pics.
Apparently now painted to also serve as the parade car for NYC's San Gennaro Festival.
The new paint is great. But, wish the Red was a bit more Tricolore Rosso.
The ground rules for me to get this ride were simple - I would tell the story of my Pirelli World Challenge racing experiences [while doing my best not to embarrass their commitment to me].
MY agenda was to do all that and…… NOT embarrass myself [My last races were way back in 1997].
I'll spare you the suspense -
I didn't fail my Patrons. In fact, a key moment of the race [and my related judgment call] retained their favor.
I didn't wank. But, am a harsh grader. So, C is the best I can assess my performance. You'll see in a bit.
And yes, I also assume you can see the rubber hose around my arm. OMFG, I'm an addict.
THE CAR / THE CLASS - THINKING THIS IS A GREAT PLACE TO START RACING
The Fiat 500 is not the Abarth edition, but it is race-prepped. So, around a ton in curb weight after pulling all the amenities out of it, a KW competition suspension kit, and some race-ready brake pads on stock rotors - because the TCB class of racing IS as close to production-spec as can be. Those additions [and deletions] plus some other tweaks get you a Fiat 500 race car.
The 1.4L normally-aspirated 4 cranks out [maybe] 100hp and a 'similar number' on torque running through a new-for-this-event 5 speed gearset [a bit lower top gear to find more v-max mph / a different spread in the mid-gears].
Safety equipment, a welded-in cage that provides more tub stiffening, and Pirelli P Zero race tires all around pretty much defines this motorsport machine. Traction Control and ABS exist and can be turned on or off.
SRT Motorsports oversaw car construction [Thank you, Gary Johnson of SRT] and a consortium of teams - 4R Motorsports and NRG Motorsports - run the car [Alex Nelsen - Team Mgr., Nick Lougee - Car Manager. Thank you, guys].
A TCB race car rental with an established team will run you around $10k per race weekend, net of travel and any crash insurance.
Guest racers have populated the Fiat 500 seat through 2014, Mid-Ohio being the 5th event of 7 for the season schedule. Each venue hosts 2 races. At Mid-Ohio, I would race on Friday, Dan Goodman of the PWC series would do the Saturday run. Races are 40-minute sprints, with a PWC-fixture standing start.
TCB = Cars like Chevy Sonic, Honda Fit, Mini, Ford Focus, and Fiat 500.
TC = Cars like Mazda MX5, Nissan Altima Coupe, Honda Civic, 230 to 260 hp.
TCA = Cost-controlled versions of TC racecars, with a 200 hp limit.
So, another Leo 1st - In my racing career, I've never had to deal with faster lapping traffic [PrimaDonna open-wheel guy that I was!].
It's all sanctioned by the SCCA Pro organization, as is all PWC racing.
For more, the PWC Media Guide is here.
THINKING ABOUT PRE-RACE PREPARATION
'Arrive and Drive' is a racing myth or a stupid tactic for everyone but hyper-elite racers. For the rest of us, if you don't give a damn about your performance, don't prepare.
First thought is about the track. Learning the line.
I was a bit lucky here. I raced Mid-Ohio, was 2 tenth off Pole when I did, and still had my notes. And the place still went in the same direction!
But, the surface must have changed, patches replaced or resealed, curbs redone. So, I needed a refresh. Thinking I would need to tap my friends still in the seat time biz for updated notes, the all-too-cool fraternity of racing friendships kicked in before I had a chance to ask. And a few emails and pdf's with great detail came forth from an old coach of mine and other racers. Including a somewhat prophetic map of the rain-line!
Next, was to plan my actions for the race weekend. I would have 2 45-minutes sessions on the Thursday Test Day, a Friday AM 30-min Practice, a 30-min Qualify, the 40-minute Race. So, I thought -
Use the 1st Thursday Test to get comfortable with the car ASAP, then work a bit on set-up.
Reverse the order on Test 2 - Work on more set-up to get the car to do as much work as possible to go fast, then run laps to get ME more comfortable / faster.
Friday AM Practice - Adapt the car to any track grip differences, get more aggressive.
Qualifying - Get an early lap 'in the bank' to blunt a red flag, then really PUSH to get the best you can.
Race - TBD Plan for now, until we find out where we are in the field - For both car and racer [me].
Next, it was time to contact the Team and start to build the rapport / common thinking that makes it all work. Before I had a chance to reach out, FaceBook did its job and a direct message from Alex Nelsen of NRG found its way to my inbox. Turns out we were already on the same page as to initial car setup and strategy.
So, I built a notebook just like I used to carry to every race. Reference notes and record-keeping of each session - Debrief reports, Set-up changes, etc..
Then, I arrived a day early to sneak out for a track walk to see the new patches and familiarize myself with sight-lines. Plus, get fitted to the car and get to know the team guys before the weekend rush of activity.
DON'T THINK YOU'RE ALONE
Racing may be a very individual thing - Just you behind the wheel. But, it IS team. And collaboration filters from the Series Officials, too.
I needed to get a new SCCA Pro License, I needed current safety equipment - Suit, Helmet, Hans. PWC helped.
Cynically, you could of course say the Series was going to look after me for the good PR. Truth is, I watched them do it with all their teams / racers. President and CEO - Scott Bove takes time / interest to show he understands their perspectives [he also races]. Geoff Carter - Competition Director, Kevin Fandozzi - Tech Support, Greg Gill - VP Marketing, and everyone from Race Control to Admin Services make the effort effortlessly and made my entry into their world easy.
In the Drivers Meeting and around the Paddock, the other racers - kids and 'adults' with profound talent - validate what was true the last time I did this - The fraternity of racers IS authentic. And while you can find people of 'integrity clag' in racing [like anywhere], some of the more genuine bonds in my life happened in racing.
THINK IT'S TIME TO GET IN THE RACE CAR.
Here's a cute way to describe what I was thinking 1st time in the Fiat - "Scrape the rust and hope the mettle is still there."
To me, racing a car is a conflict and coordination of 2 brain jobs - Think about what you are doing, but don't think so much as to clog the receptors [Hands, Feet, Eyes, Ass] that tell you WHAT the car is doing, WHAT you need to do to get it to go fast, and HOW to keep the whole process on the track and off the towhook.
Finally on track and the data-points are coming fast and furious.
The track is not an issue. My eyes are doing the right things - Focusing way down the track, constantly moving, using my peripheral to stay ahead of the car. It's like I was here yesterday.
My getting in synch with the car was another story. Nothing felt natural - The grip limits, the balance, the flow. Wow.
Touch the brakes and we go into rear axle death-wiggle mode. The wheelbase is only 91", the Honda Fit and Mini are 98" [A Challenger Hellcat is 116"]. But, wtf? And any attempt at trail-braking is daring a snap spin. "Is this a front-drive phenomenon?" I think. Who knows! First time for me racing FWD.
But, the Fiat is stable in the fast corners and turning-in with no sharp moves in the slower ones. Steering is direct. Throttle response already tells me 5500 to 6200 rpm is where I need to be. That's not happening for me out of a few corners! Work to do.
Every lap is quicker. We took 4 seconds out of my times [which is good and bad - eg; Why the F are there 4 seconds to take OUT?]. The crew is happy, but not me. Holy sh*t, we have a long way to go.
Still, that was only the first 45 minutes in the car. We make tire pressure changes in the session. Turns out I have less to adjust than in any other racecar I've ever driven. Going faster has got to come from me.
I do my debrief notes and we discuss. "Brakes, boys. Let's talk."
The second session will help us get farther along.
THINK OUR PLANS JUST GOT CHANGED
Racing is a mix of executing a plan and adapting on the fly. My second 45-minutes of track time got taken from me. But, for a good cause. We were racing Mid-Ohio weekend for a charity - Maxton's Fight.
And 2 PWC officials had a bet based on lap times to donate $ to Max. So, they need the Fiat. Can't argue with that, but my day is done. One of the 2 was Dan Goodman, an active racer, a guy that runs his own race-shop, and the shoe racing the Fiat on Saturday. So, he deserves some seat time. Bottom-line, Dan went quick, won his bet, and showed me another 4 seconds of speed. Now, I think I really suck.
NO TIME TO THINK. IT'S PRACTICE, QUALIFY, RACE DAY
Bill Murray in 'Groundhog Day' said it best - "Don't Drive Angry". OK, how about 'Determined'? Because we got to grab this Fiat by its Orecchiette and make something happen. Got 4 seconds to find. And only 30 minutes of Practice.
I'll spare you the details, but tell you we got it done. And a bit more. Practice was a step forward for me and we were finally in the mix for Qualifying, albeit still from the backside of the 15 car TCB pack.
And then the racing brotherhood kicks in, again. Turns out I DO have friends, as advice and coaching starts coming at me from all sorts of places! So, we filter through the advice to figure what will work with the Fiat and me.
Qualifying. I thought we'd have 30 minutes - All classes on track at once, 30 cars of TC / TCA / TCB racers. Managing traffic to get a clear lap is what I used to do. NBD.
But, the Series sends a text - Split Qualifying. Only 12 minutes for TCB. Okaaay.
I match my practice time - 1:52 flat - but leave at least a second on track. In retrospect, where I gained time in 2 key segments [eg; now flat in Turns 1 and 11], I gave it back trying a higher gear in Turn 4 - It felt faster, but was not. Plus, I think I overdrove the car a bit.
I am on the last row for the race. Ugh.
ONE LAP IS NOT A RACE. I HAVE TO THINK THAT WAY.
Green flag and 2 cars are immediately toast. "Mr. Alonso can you feel what I'm doing?" Wet track, still on slicks, there is no grip. The notes about the rain line are burned into my thinking. My hands and ass are my new best friends feeling the car. But, I need to go Bi-Polar on these guys. Time for Passive-Aggressive.
Heading to the Keyhole, cars are coming back to me and I am where I want to be, set up for an outside line around the perimeter and onto the straight. And then, the Polesitter spins! The field scatters. I do not. 2 more spots? Down the straight and into an important brake zone.
BTW - The team DID hear me about the brakes, did a bleed, found air, and we made a rear pad change for better bite and balance. So, confidence was also installed.
BTW2 - The rain has slowed, likely to stop. Cars that pitted for rain tires made the wrong call. A dry line will emerge by race end. But, that's not the case in the opening laps.
Through the back part of the track and all the turns, the piccolo Fiat is working well, better than others. Lap 1 is done and the radio chatters, "You are doing great." Not so sure, but I'm not thinking about 'great'. I'm trying to feel the car and see where the one in front of me is weaker or stronger.
Lap 2, heading into Lap 3, I've passed 6 cars. Not as awesome as James Hinchcliffe's 9 passed cars in his IndyCar first lap, but hey I ain't the Mayor of anything. I'll take what I got [for now]. And unknown to me at the time, I'm already P7 or 8. And I haven't used my balls, yet.
Again down the back straight, the pop I get off the Keyhole gets negated by Ford, Honda, Mini horsepower by Turn 4. But, still I am catching the pack of 6-7 cars in front of me.
"Keep going while it's wet, get to these guys. Clear them, try to get to the front.", I think.
The Fiat is strongest on the back part of the track. So, as we approach Turns 5 and 6, I know I can use these corners to get right up their ass. And they're screwing around with each other enough that it's working.
Turn 6 is a downhill right, 3rd gear, and giving me a good shot through T7, 8, 9. Turn 9 sets up for the run uphill to Turn 11 and into the Carousel [another good place to pass for the Fiat].
So, the stage is set. That's what I'm thinking.
AND I know I got to go now while the track is still wet. As it dries, I will be 'passing chum' for the horsepower cars. But, it's early in the race. So, time to remember Rick Mears. His mantra is "Use the first 3/4 of the race to set up for the last 1/4".
But, here's where I give it all away.
Over the Turn 5 hill, it's all good. Power down, closing down on the pack. Immediately in front of me is a Ford Focus and a Customer Fiat 500 [The one that the driver bought and gave actual cash to SRT Motorsports!].
Into the brake zone for T6, the outside edge of the track has the grip, the very last edge is what I'm using to turn-in. It all makes sense until the Customer Fiat jukes left and takes the last piece of track I NEED to slow and turn.
I swear to God, here's what I thought, "I can't crash the Customer Car of the SRT guys that gave ME my free ride!" I envision his Fiat going off track - Good for my race, bad for the big picture. I also have the quick visual of BOTH Fiats going off track. Friggin' Leo, the Loser!
So, as the adult in the room, I make the judgment call to save the Customer and then try to save myself. It didn't completely work [watch the race]. 2 tires off onto the grass begat a pinball bump off the tire wall and yet I continue. But, the pack is lost, the race for me is really over, right there.
To be clear, it was MY MISTAKE.
I should not have charged down the hill so hard and left myself no margin for escape. And it gets worse. Here's where my time away from racing and my rookie-ness in TCB enhanced my self-destruction.
I didn't realize the pack I was catching / caught was NOT the mid-pack as I assumed it must have been. It was the front pack! On Lap 3! From P14 starting position. I was thinking 'managed aggression' and keeping the whole 40 minutes of racing in perspective. But, subconsciously I WAS Alonso, just without the talent. I was too aggressive too soon, despite the ticking clock that was the drying track, especially with so much race time left to go.
Hence, the C grade on my performance, the return of the burning guilt of unfinished business, and a big question on what to do next [more racing or not].
But, at least 'next' is still on the table. Yes, Gary Johnson gave me a half-smile look, but he did accept my decision to not OFF the Customer. "Big picture, sir, big picture."
I finished P10 or 11, I think [If it's not a Podium, no point looking at the Results Sheet. Not as extreme as Ricky Bobby's philosphy, but in the same spirit].
And yes, my expectations after all these years may be unrealistic. But, thinking that way makes for great motivation.
PS - In Saturday's Race 2, the Customer wacked his Fiat hard! If I knew he was going to crash, I would have saved him the trouble, saved myself, and field goaled his ass on Friday. Oh, well.
FINAL THOUGHTS
TC / TCA / TCB racers are really really good. Watching some of these kids is, in fact, watching the future.
Racing Pirelli World Challenge TCB is not the high-G workload of my old days in Toyota Atlantic cars or the PWC GT3 cars. Nor even the lap times of my long-ago Barber-Saabs - 1:26.2 in 1992.
But, TCB is real racing, a proper stairstep for racers, teams, mechanics, engineers to polish skills for moving up to the premiere levels of Pirelli World Challenge and professional racing.
Endurance racing has its place, but so does the sprint format of PWC.
And there is something fun about different cars with different strengths / weakness racing each other vs single-make series spec-car competition.
The Fiat 500 has all the fundamentals to be a lead-challenging race car. It just needs some development tweaks. That IS my hand raised to be the development racer!
And yes, I'd do Soprano-like things for Abarth power and a front airdam for more aero.
But, it's not the car that's the entire issue. I need more seat time. I never got into the rhythm that's necessary to get everything out of a race car and yourself. I guess once every 17 years may not be the most brilliant plan.
And the next time, I won't be so nervous about my performance to NOT do a video log [if anyone wants to help me on that]. Taking you with me, moment-to-moment over the course of a Pirelli World Challenge racing weekend - Inside the team, the debriefs, the meetings, the greetings, the interviews, the racing, everything.
Even at Leo Parente speeds, it would NOT be boring.
PS - LP Interview starts at 5:15 in the Race 2 Pre-Race Show. AND take the time to watch the high quality of kick-ass racing that IS TC / TCA / TCB competition.
Thanks again, to everyone that made this happen.