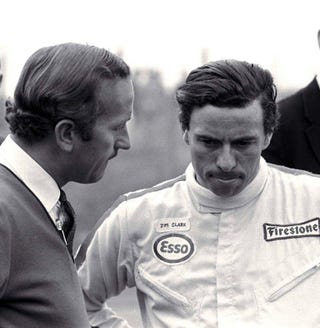 In my opinion, there are 2 classes of racing enthusiasts. Those that know and respect the virtues of Jim Clark. And those that don't know 'what the hell I'm talking about'.
This is not a comparative of generations [old school vs young], or accomplishments [#'s of wins / records], or race car driving skills.....
This is about a racer's style - The Approach, Process, Professionalism - The manner in which a racer conducts the business of driving a race car, competing in a race, winning races and championships, BEING a racecar driver.

And the fact that my 1st racing hero passed on this day - April 7, 1968.
Colin Chapman, the one who made Jim Clark THE scion of Lotus, wrote this -
"The first I ever heard of Jim Clark was from Jock McBain, who had been purchasing Lotus sports cars from us for two or three years. He mentioned this young farmer, already legendary up in the Borders, whom he felt was a very, very good driver. One of the first occasions I really met Jimmy was when he came down to Brands Hatch to try out a Formula 2 car, on behalf of Border Reivers, who were thinking of purchasing one. There and then I was most impressed with the way he drove the car, especially as it was his first single-seater drive, and also his first drive at Brands Hatch. He was steady, consistent and, basically, just downright competent. At around about the same time, he drove a Lotus Elite for the Border Reivers at Le Mans, doing very well indeed, and my impression of his performance then was reinforced when he drove at Brands Hatch one Boxing Day in an Elite.

"I drove in that same race, and we had quite a dice together. Immediately afterwards I asked him if he would like to join Team Lotus. This was during the period when Team Lotus was in a stage of transition, from being a racing team in which I was the principal driver, and thus was virtually being run for my benefit, to the point where I was sponsoring a team for other drivers. This transition therefore coincided with Jimmy coming to Lotus and therefore he was the first driver to actually come to the team as its principal driver. So really we came of age together: Lotus was just getting into Grand Prix racing, Jimmy was just getting into Grand Prix racing. The fact therefore that we were both learning together made our association very interesting, and so very fruitful. A young Clark at his first Single Seater Race

"As far as I was concerned, I felt right from the beginning that he was such a good driver, and a man with whom I was so completely at one, that I could retire from driving myself and concentrate purely on producing cars for Jimmy to drive. And this is in fact what I did. We always got on so terribly well -we thought alike and acted alike, we were both keen on doing a thoroughly first-class job, and we found out about racing together. This is something which will never ever be the same again for me in motor racing, because of all the problems, all the successes and the anguish we shared together (and there's a lot of anguish in motor racing). Throughout it all Jimmy realised we were both finding our feet and was very friendly, very co-operative. For me, this made it enjoyable, easy and pleasant.

"As we went along, too, he developed a superb technical knowledge. When he started driving for me, he didn't of course have the benefit of a formal engineering background. But he did have what I can only describe as a very very good intellect, and he picked up the engineering side of motor racing so rapidly that after a while I was able to interpret his expressions regarding the car, its handling and its requirements and so on. And this made it easier for me to develop better motor cars.

Although at first certainly, he wasn't a development driver in the accepted sense I think I got even better results than I might have with a driver trained in the engineering sense. For Jimmy had no real preconceived ideas, he was merely satisfied with reporting the facts, what actually happened, and did not try to draw his own conclusions. And of course, in many ways, this is an ideal driver for an engineer to work with – unfortunately, you do find that some drivers who have little engineering knowledge will form their own conclusions about what is happening, and, possibly subconsciously, make the facts fit their conclusions. This Jimmy never did.

"I think the thing about Jimmy Clark as a driver was that he was relaxed, he was always in command of the situation and he very very rarely drove beyond nine tenths of his capacity. The result was that he always appeared to be smooth and extremely competent. He had so much natural ability that he was driving within himself far more than most drivers do.

"There were occasions when he drove really hard and of course those were the rare occasions when he showed his sheer genius for being able to drive so much quicker than any other contemporary driver. I remember that 1962 German Grand Prix at Nürburgring, when on the start line he forgot to switch his fuel pumps on, and so was left behind at the start. This was the sort of thing that would raise the tiger in him, because he felt, rightly or wrongly, that he had made a mistake and it was up to him to put it right. He just drove fantastically well that day, so that although he only finished fourth in the motor race I would put this motor race down as one of his best. Similarly, in the Italian Grand Prix at Monza in 1967 he did something which up to that point I, and I think most people, had felt was impossible. He had a puncture which dropped him a lap and a quarter behind, and at Monza he actually made up a lap on the field – even if you do have a capability of going faster than the other drivers, at Monza you invariably end up towing them round with you. But Jimmy actually caught the leaders, left them, and then made up a whole lap on them. This I think was a virtuoso drive which no other driver has ever equalled or will ever be able to surpass.

"This was just one of the rare drives in Jimmy's career when he drove flat out. I can only think of four or five other while relentlessly hunting down occasions in the whole ten years he drove for me that he really drew on all his resources. Because generally he was capable of making a very quick start, getting out in front of the opposition, and demoralising them. From that moment on he drove to a plan of his own which conserved the machinery, which conserved his own energies, and was adequate to win the race.

"I never controlled him when he was racing, all I did was give him the maximum amount of information, and let him run the motor race. I believe that the driver is the only man qualified to make the decisions, for example how fast to go; he is the only man who can size up his capability, how much he's extending himself, how much he is extending his car, what the condition of the track is, and so on. I think it is absolutely futile for any team manager as such to try to manage a car during a race. His purpose is to give the driver information; the driver decides on the tactics of the race and drives accordingly.

"I do not think it was true that he was always happiest in a single-seater, or that he ever, ever really played to the crowds. I think, for example, that he used to enjoy Cortina racing just because he enjoyed racing – he got a lot of fun from it. In fact he used to tell me that some of the most enjoyable rides, from his own personal point of view, were when he drove Cortinas, because the car was relatively difficult – it wasn't a precise racing car, it was a car that you could play around with, throw about. He could do all sorts of ridiculous things with it, and he just used to enjoy it – not because it pleased the crowd, but because it pleased him. "I don't think Jimmy took any notice of the crowd, he certainly was never racing for his public as it were. He was racing for himself.

"I think he enjoyed sports cars, too. In fact he liked to try any different form of racing – this was a thing which evolved through his career. This really is why he went to Indianapolis, certainly he did not go because he believed all the mumbo jumbo that surrounds the race, it was just that it was a new type of motor racing, so he wanted to try it. For the same reason, he later tried an American stock car race, merely because it was something new, and he enjoyed tackling new things. He would get as much fun out of driving even a kart as he would out of driving a racing car. Anything that needed coordination and control was exciting to him. "For the same reason he really loved flying. In fact I remember just before his accident, he was talking about his future and what he was going to do when he stopped racing, and he said he finally made up his mind that he wouldn't in fact go back to farming. He still loved it, but I think he would have found it difficult to go back to it after the excitement and turmoil of racing, flying and the life he had been leading. I think he wanted to settle down in some branch of the aviation business. He certainly had some business investments in aviation in Australia, although I do not think he could have settled down out there, as some people imagined. He certainly enjoyed Australia and New Zealand very much, he enjoyed the climate and he enjoyed the people (Australia I think probably more than New Zealand). While I don't know if he would have gone out there to live, I don't think so; I think he would have probably come back to Europe. "It is difficult to say of course, how long he might have gone on racing. We had talked about it briefly and I think he would have certainly seen the current Formula out to the end of 1970.

"In his racing one achievement was not fulfilled he had won every major Grand Prix apart from Monaco, and he would dearly have loved to have won at Monaco. He actively disliked a few circuits-Spa most of all. He felt it was a dangerous circuit, and he was always very happy to get the Belgian Grand Prix over. This could have been due to the fact that the second Grand Prix race he ever did was at Spa when his team mate Alan Stacey met with a fatal accident, and I think this sort of thing made a lasting impression on him. Certainly the season always seemed a lot more relaxed once the Spa race was finished.

"He never used to like Silverstone very much. Not because he felt it was a dangerous circuit, he just felt it was an uninteresting circuit. But, as well as Monaco, he did like Nürburgring – this was another of his favourites, because I think these two were more challenging than most of the others.

"One of the things about Jimmy was that he had the ability to adapt himself, or train himself, to cope with almost any situation in life. This showed in his development as an international figure. When he was World Champion for the first time the speeches and public appearances he had to make were very foreign to him and he had to work very hard at them. But, like anything he tackled, he very quickly mastered this aspect of his career. This was just another problem to him, and within a year he had licked it. If he hadn't have been a first rate racing driver, I am sure he would have been at the top of what ever profession he went in for.

"I have been thinking very much about Jimmy and racing drivers and trying to analyse what really made him so much better at his business than others and I think it must boil down to that he just had a very very superior intellect. He was very quick to assess a situation, and not necessarily only whilst driving. His mind had the resolving power to be able to sift extraneous material from important matters, and surely this is a mark of anyone who is truly great in any profession, that they can sort the trivial from the essential.

"He also had such exceptional physical attributes, of eyesight, co-ordination and so on. Not only did he have these physical attributes, but he had the mental ability to go with them, plus a tremendous self control which must have stemmed from his family background, his upbringing, and his school. I have met his parents really closely only since his accident, and seeing the way they reacted to it and bore up under the adversity, I realize that this is where he got this fantastic dourness. Farming must have played a part in his moulding, too, for I think that farmers in general must accept life and its quirks to a much greater degree than most people – they have to accept the influence that weather and other things outside their normal control have upon their own lives, and on their prosperity. And possibly too, this showed in the way that Jimmy had an approach which was always resigned to some of the problems of life and living. This capacity made him able to cope with them so exceptionally well.

"Looking round at other racing drivers, now, I think without undue prejudice – although I must admit to a little – I can't see any that have anywhere near the total ability that Jimmy had. Really, his ability was so much greater than even he revealed. As I have said he rarely drove to his capacity, very rarely indeed, and this makes the gulf between him and other racing drivers even bigger. Certainly it is bigger than is shown purely by the record book. It wasn't what he did, it was the way he did it. He did it with such reserves, that it was almost incredible to believe that it was possible to find such reserves in one man. "I feel that although he was pre-eminent as a racing driver, I do not feel this is the biggest credit to Jim Clark. I think that his most profound influence, certainly on me and all his close associates, was not his ability as a racing driver, but his success as a man. He was so thoroughly adjusted to life and its problems, he had such a thorough integrity of his own that it is very difficult for others to compare themselves in the same street. He was fit, he was honest – `integrity' is the best single word to describe his qualities. This is the man I shall always remember, not simply a man who won a record number of races. He was a man who set an example to others."
- Article written by Colin Chapman [Sourced from Paul Pfanner, RACER magazine / http://www.facebook.com/paul.pfanner - http://www.racer.com/ - Thanks.]