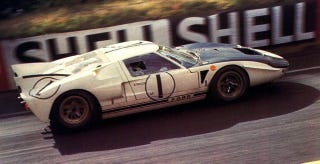 In 1965, Ford started to get serious about Le Mans. Big 7 Liter NASCAR power AND bodywork to master this thing called aerodynamics.
Ford thought 'long-nose'....
vs their normal GT-40 look.... 
....was the way to vanquish the Mulsanne and its +200 mph speeds.  But, instead of fighting to end Ferrari's Le Mans domination [Modena had won the last 4 LM24's, 1960-64], Ford racers found themselves fighting aero instability, hence the quickly crafted hand-bent-in-the-paddock sheetmetal rear stabilizers the crew called 'Chrysler Fins'.
And Porsche, maybe, took note of Ford's troubles deciding the added length was on the wrong end of the car. Porsche 'long-tails' arrived in 1966....
....marking the start of Porsche's Long-Tail history.
OppoLock contributor Goggles Pizzano reminded me of this 1965 GT, my 1st favorite Ford racecar.  His post has more info. And the news that Ferrari won their 5th straight in 1965 as the big GT [not yet a MkII] had not yet conquered its gearbox weakness.
1966....and '67....and '68....and '69 would be better for Ford.
BTW - The Long-Nose / Long-Tail lesson was not lost on Ford. Enter the 1967 LM24-winning Ford MkIV.